All too often, innovators develop breakthrough technologies and then hit a major roadblock when they go to market because their brilliant new medical tools don't fit well into the healthcare system.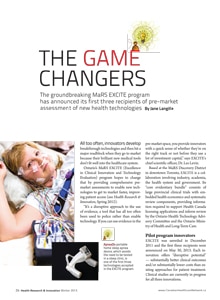 Ontario's MaRS EXCITE (Excellence in Clinical Innovation and Technology Evaluation) program hopes to change that by providing comprehensive pre-market assessments to enable new technologies to get to market faster, thereby improving patient access.
I spoke to the chief scientific officer of MaRS EXCITE and to experts at the first three recipient companies to learn more about this world-first model for health technology assessment and to find out how the program is progressing. Each company's innovation offers "disruptive potential"—  substantially better clinical outcomes and/or substantially lower costs than existing treatment approaches.
ApneaDx Inc. makes a home monitor for diagnosing sleep apnea, a disorder characterized by abnormal interruptions in breathing and associated with a high risk of heart attack and stroke. Currently, sleep apnea affects about 10% of adults, and 85% of cases are undiagnosed.
Rna Diagnostics Inc. developed the RNA Disruption Assay, a diagnostic tool that identifies breast cancer patients who are not responding to chemotherapy early in treatment, so they can be quickly switched to an alternative, avoiding the harmful side-effects of ineffective chemotherapy and improving outcomes.
Medtronic of Canada's Symplicity Renal Denervation System is a surgical device to treat high blood pressure in patients who don't respond to three or more medications. By threading a catheter via a leg artery up to a patient's kidney, doctors can deliver low-level radiofrequency energy to targeted renal artery nerves. Disabling those nerves has been shown to significantly lower drug-resistant hypertension in two large-scale clinical trials.
Comprehensive assessments for these first three companies will be completed by mid-2015. If results are positive, market uptake should happen soon thereafter. Time is of the essence because innovations usually enjoy only about 18 months of exclusivity before competitors enter the market.
Click on the image above to download a copy of the PDF. If you are a subscriber to the Canadian Healthcare Network, you can access the online story here.
This article originally appeared in the Winter 2013 issue of  Health Research & Innovation, a supplement to Canadian Healthcare Manager. Reprinted with permission of Rogers Healthcare Group.