Perhaps you or someone you know is a caregiver, as there are more than 34 million Americans who are providing care for older, chronically ill or disabled family members at home. Caregiving can be deeply rewarding yet highly stressful, as caregivers face many day-to-day challenges that can lead to exhaustion, feelings of helplessness, unspoken heartache and isolation.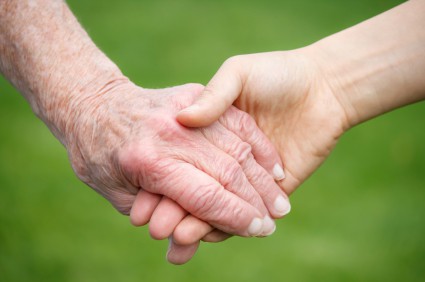 "Caregiving, which can be a defining part of your personal legacy, is one of the most complex, challenging, and rewarding projects you will ever design and execute," says Vicki Rackner, MD, in her book Caregiving Without Regrets: 3 Steps to Avoid Burnout and Manage Disappointment, Guilt, and Anger. Dr. Rackner is the founder of The Caregiver Club.
Caregivers are often spending so much time taking care of others that they fail to take good care of themselves. The stress from caregiving can lead to physical illness, depression, grief, or changes in the caregivers' own relationships. Dr. Rackner says, "I think about stress as a special kind of pain, making the announcement that there is not enough of something. Caregiver stress happens when there is not enough of the caregiver to go around. Paradoxically, what people very often need is more basic human connection."
Now, with the growth of social media, caregivers can tap into a wide variety of online resources and communities to help alleviate stress. They can use social media to connect with others who are experiencing the same challenges, coordinate care with relatives or neighbors, and post updates about important milestones or appointments.
Here is how some popular social media tools can help caregivers:
Online community discussion forums. Johnson & Johnson's Strength for Caring website offers an online discussion forum where members can post questions and interact with other caregivers facing similar challenges. There are also comprehensive resources on the site, including information for caregivers, tips for caring for others and articles and links to information about managing the financial aspects of providing care at home. Another online community, the Family Caregiver Forum offered by the National Family Caregivers Association boasts almost 3,000 members who post questions, receive support and connect with others.
Facebook. Baby boomer caregivers are using Facebook as their top pick for a fast way to connect with family and friends about caregiving issues, whether it's to vent, update a status or connect with others for help.  Posts can be public or kept private among Facebook friends.
Twitter. Because a tweet is limited to 140 characters, Twitter can be useful for quick news updates, such as the status of an important appointment, which can be kept private as a Direct Message e.g. "Dad is out of surgery and in recovery, doc says went well." This is much faster than repeating the same information in a series of separate phone calls. Twitter is also a great place to find out the latest news about caregiving by following the hashtags #caregiver and #caregiving.
LinkedIn. A more professionally oriented social media platform, LinkedIn has more than 300 discussion groups for caregivers. Some groups, like Home Care and Healthcare Advocacy or the Alzheimer's Association are public, while other groups like The National Family Caregiver Association are private to members only.
MealTrain. Originally started as a way to organize meals for a friend after the birth of a baby, mealTrain offers an online interactive calendar planner where caregivers can ask relatives, friends and neighbors to schedule days and times when they can drop off a meal.
CONNECT THE DOTS
Strength for Caring offers Care Connector, a free mobile iPhone app that offers message boards, caregiver stories and places to organize medication and treatment plans. The New York Times has a comprehensive list of online resources for caregivers at Caring for the Elderly. The Hartford Institute for Geriatric Nursing, New York University, College of Nursing has a checklist to measure caregiver burden, the Modified Caregiver Strain Index, which can help caregivers identify areas of stress so that they can seek help.   Check out these other mobile apps that are helping people everywhere get healthier: My Diet Diary-Calorie Counter, Sleep on It, and Fit Friendzy.