On January 20, 2015, I spoke on a panel for the Toronto Branch of the Editor's Association of Canada about Enhancing Productivity: Tips, Tools and Strategies, together with fellow freelancer Luigi Benetton.
One of my favourite tips to boost health and productivity is to use a standing desk. I've been using one since the summer of 2011 and I love it! Here's why I decided to use a standing desk and some helpful resources if you are thinking about making the move yourself.

Where it all started
I first learned about standing desks from Stéfan Danis. Stéfan is now a partner in a handful of executive search firms, but many years ago, we were colleagues working in consumer brand marketing at Procter & Gamble. In 2009, I met with Stéfan to learn about how he trained for the Gobi March, an extreme desert race where participants compete in a gruelling 250 km race over 7 days and carry their own supplies for the duration.
One of his surprising training strategies was to switch to a standing desk. He even wore a weighted backpack months before the race to simulate race conditions. Stéfan recommended I read James A. Levine's book, Move a Little, Lose a Lot to learn more about the science behind his decision. Levine is an endocrinologist at the Mayo Clinic and the inventor of the first treadmill desk, which in its first concept design consisted of a bedside hospital tray over a treadmill. In his research at the Mayo Clinic, study participants wore special undergarments with microsensors that measured every movement. It's his research that found that standing burns 3 times as many calories as sitting.
Soon after that, I began to read studies from researchers in Canada, the United States, Australia and the United Kingdom about the health risks of sedentary behaviour. I made the move to my own standing desk in the summer of 2011 and wrote the post Is Too Much Sitting Bad for Your Health for GE's Healthy Outlook blog. Later, I wrote The Sinister Side of Sitting for Canadian Health and Let Your People Move for CMA magazine.
The health risks of too much sitting
You've probably heard by now that "sitting is the new smoking" or read about "sitting disease." A landmark study published in 2009 found that people who sit most of the day have:
twice the risk of heart attack
twice the risk of developing type 2 diabetes
twice the risk of dying from any cause
later studies have also found a higher risk of cancer
James A. Levine wrote that sitting is also a major cause of orthopedic pain. When we sit for extended periods of time our back muscles loosen, our hips get tight and our legs get stiff and weak, so over time, we can have back and neck pain, and become hunched over like Cro-Magnon man.
What was most surprising from the landmark study was that these risks were true even for people who were meeting weekly guidelines for moderate to vigorous physical activity of 150 minutes. This means that even if you pound out a 5K run on a treadmill for half an hour, and then sit on your duff for most of the rest of the day, you're at risk. And most of us sit for most of the day: the average Canadian sits for 9.5 hours a day, about 70% of waking hours.
What happens when we sit all day?
Researchers analyzed blood samples from people who had been sitting for several hours and found significantly elevated levels of blood sugar and fat. When we sit for hours, the transport proteins and enzymes that would normally move sugar and fat out of the blood and into cells where they can be burned for energy start to shut down. If we sit for the entire day, their activity levels drop by 50%. Then if we eat a meal high in sugar and fat, blood sugar rises too high and the pancreas starts pumping out excess insulin to try to keep up, and blood fats skyrocket by 180%.
Over time, when our body can't use the energy we eat as fuel, it leads to health problems like diabetes, heart disease, and excess fat storage, particularly in the abdominal area. The great news is that the single act of getting up out of your chair is all it takes to get nutrients moving into cells again.
My standing desk
For my first effort to build a standing desk, I didn't want to buy one until I knew it would work for me, so I tried an experiment with things I already had. I measured how high I wanted the tabletop and put stacks of old textbooks under each leg to raise the desk up.
It worked, and I loved it, but I had no option to sit down when I was tired. It takes a while to work up to being able to stand more than sit in a day. Besides, it's not really good to stand all day either — just ask anyone who works in a factory or a restaurant where their job demands that they stand most of the day.
After checking out some sources online, I built my standing desk with parts I bought at IKEA – a large tabletop about 5 feet by 2.5 feet, four extendable legs and a bar stool. All in, it cost about $250 plus tax. The tabletop is 43 inches off the floor, just right for my height. The bar stool tucks under the table when it's not in use and I alternate between standing and sitting. My desktop Mac is pushed back towards the wall and I have a nice area in front for my keyboard and to the side for reference materials and other office supplies.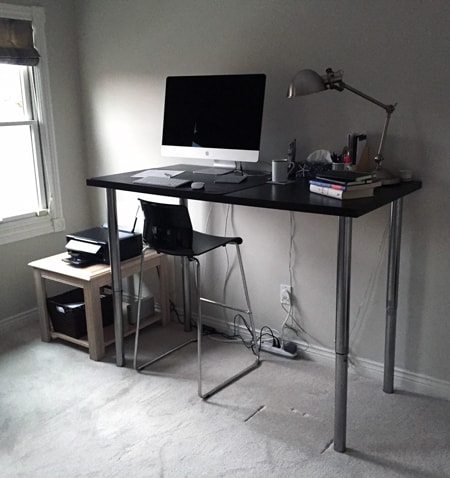 Here are a few tips on optimal setup from WIRED magazine:
your computer screen should be about 20-28 inches away from your eyes
the screen should be tilted about 20 degrees
your eyes should be level with the top third of your screen
your elbows should held at about a 90-degree angle
There are lots of variations of standing desks. Some are static and some are motorized so they adjust for sitting or standing at the touch of a button. Here's a standing desk hack that costs only $22, using parts you stack on top of your existing desk. If you are looking for a top of the line motorized adjustable sit/stand desk, check out the Steelcase Series 7 Height-Adjustable Table, which starts at $1,439 or the NextDesk Air, which starts at $2,180.
In November 2014, IKEA launched a new motorized sit/stand adjustable desk called the BEKANT Ergonomi. It will cost around $600-$700 in Canada, less than half the cost of many other motorized models on the market. It's not available in store yet, but coming soon and available by phone order if you call a store.
Try a standing desk
Perhaps you're not convinced a standing desk is your cup of tea. Katharine O'Moore Klopf, a freelance medical copyeditor in the U.S., started using a sit/stand desk in 2012 and hasn't looked back since. Together with other healthy lifestyle changes, she has lost a significant amount of weight, reduced her diabetes medication and says she has more stamina, sleeps better at night and doesn't get drowsy or bored while working.
Many of the top technology companies like LinkedIn and Google are using adjustable sit/stand desks for all employees and brief all employees from top managers to interns on the health risks of too much sitting.
Run your own experiment and see if a standing desk is right for you.
Update January 10, 2016: The Ombee portable, modular system looks like a neat option to consider. It turns an existing table top into a standing desk and comes with anti-fatigue mats to stand on. Price is not listed on the website, however Ombee is offering 50% off retail for those who subscribe to crowdfunding launch updates.