As today is the annual Bell Let's Talk Day to raise mental health awareness, I'm sharing my recent feature about mental health and stigma for Canadian Nurse magazine. 
Stigma is one of the main reasons why those who are suffering from a mental health issue do not reach out for help. Reducing stigma among health-care providers, one of four key target groups, is a top priority for the Mental Health Commission of Canada through their Opening Minds initiative.
Part of my research for this story included watching the first annual Bell Lecture on anti-stigma, called Breaking the Silence: Let's Talk About the Stigma of Mental Illness. In the lecture, Dr. Heather Stuart, Bell Canada Mental Health and Anti-stigma Research Chair at Queen's University, recounts a colleague's personal experience with stigma. She makes a compelling case for the need for a shift in thinking about mental health as a public health issue: "In many places in Canada, it's okay for public health workers to go into schools with condoms and bananas, but it's not okay to go in and talk about mental health issues, yet we know kids in high schools are at risk."
James FitzGerald, journalist and award-winning author of What Disturbs Our Blood, also speaks in this lecture. He shares his personal experience with stigma as he dealt with his own issues and uncovered his father's history while writing the book.
You can access the free podcast for Breaking the Silence: Let's Talk About the Stigma of Mental Illness on iTunes (it's number 7 in the list).
We all need to be aware of how words, actions and attitudes can stigmatize others.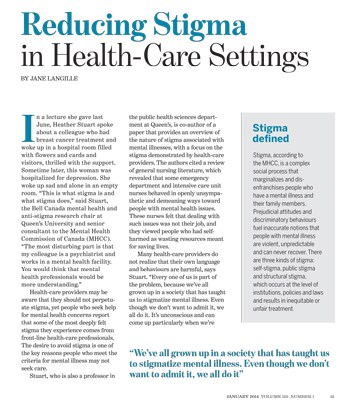 Follow the hashtag #BellLetsChat on twitter. Bell will donate 5¢ to mental health initiatives for every tweet.
Today is Bell Let's Talk Day. For every tweet using #BellLetsTalk, we'll donate 5¢ more to #MentalHealth initiatives: http://t.co/gmN6btcEVM

— Bell Let's Talk (@Bell_LetsTalk) January 28, 2014