How many pairs of shoes are in your closet? You likely have more than you really need or would like to admit you own. We tend to take them for granted, but in many developing countries, shoes play a key role to help protect against injuries, soil-transmitted diseases and parasites, and make it possible for children to attend school.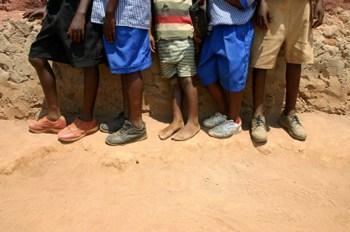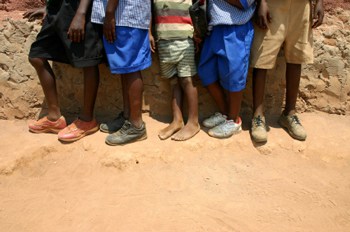 Soles4Souls started as a project to help provide shoes to disaster victims following the Asian tsunami disaster in 2004. After watching a news report showing a lone shoe wash up on a beach, Wayne Elsey knew how he wanted to make a difference. By connecting with other executives in the footwear industry, he arranged for the distribution of more than 250,000 pairs of shoes to disaster victims.
When Hurricane Katrina hit in 2005, he organized another shoe drive to distribute more than a million pairs of shoes. Based on these successes, he founded Soles4Souls, a registered non-profit organization that has distributed more than 17 million pairs of shoes in almost 130 countries around the world.
In 2012 alone, more than 4 million pairs will be distributed. Soles4Souls collects individual donations as well as donations from companies and participating sponsors. Surprisingly, they will even take single shoes! All kinds of new or gently worn shoes are accepted: athletic, dress, sandals, pumps, heels, work boots, cleats, or flip-flops.
"The lack of footwear is a significant problem facing people living in abject poverty and those affected by natural disaster," says Kevin Goughary, CFO, COO, and Interim CEO for Soles4Souls. "In developing nations, inadequate foot protection can lead to contraction of disease, particularly from ground-borne parasites such as hookworm that can enter the body through the feet. Living without shoes in harsh environments, as you can imagine, leaves the shoeless susceptible to cuts, abrasions, and overall discomfort as well.
There are also other health risks for barefoot people. Bacteria in the soil can enter injured feet and cause tetanus, which can lead to lockjaw, a health risk we don't consider in developed countries where most people are vaccinated. In high altitude areas of Africa, Central America and India, barefoot people are susceptible to podoconiosis, also called Mossy Foot, which causes massive, painful swelling due to an inflammatory reaction to volcanic minerals in the soil.
Beyond protecting health, shoes play an important extra role for children. "In many developing nations, shoes are required for children to attend school; so being without footwear will actually impact a child's opportunity to receive even the modest education that would otherwise be available," says Goughary.
Last year alone, Americans threw away 300 million pairs of shoes, which ended up in landfills. Shoes that are donated to Soles4Souls however do much more than just keep their new owners disease and injury free: Soles4Souls works to create sustainable micro-enterprises in developing countries to sell the shoes. "Gently used footwear is an ideal resource for people with little or no opportunity to make a living. It is amazing to know that shoes previously destined for landfills now help families provide for their children and help to build economic development that will improve more and more lives," says Goughary.
In the last two years, the company has expanded to include three new programs to help people in need. Clothes4Souls collects and distributes items of clothing.Hope4Souls stages immediate relief efforts to distribute bottled water, food and cleaning supplies in disaster zones in the U.S. and developing countries.Travel4Souls provides an opportunity for helpers to travel to developing countries and participate in the distribution, to experience firsthand the joy of helping someone in need. For many, this is a life-changing experience.
CONNECT THE DOTS
Soles4Souls is a registered charity recognized by the IRS. Individuals can donate shoes to participating drop-off locations or arrange to ship shoes directly to warehouses. You may also like to read our earlier stories, "ColaLife: An Innovative Initiative to Reduce Child Mortality," and "ColaLife Trial Goes Live in Zambia."